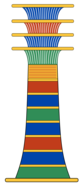 The Kemetic Interfaith Network (KIN) was founded during the Feast of the Beautiful Reunion (June 2011 CE) to serve as a meeting-place, a center for learning, and a manifestation of the expression of the love many people all over the world have for the gods and goddesses of the ancient Egyptian people (sometimes called Kemetic, after Kemet, one of the land's ancient names).
Anyone who worships one of these millions of gods and goddesses, in any form, within part of any religious teaching, or independently, is welcome to take part in the Kemetic Interfaith Network. Members are invited to sign up for our message board forums and read our collection of Kemetic blogs, and to share their knowledge and devotion to the gods with the world. All the children of Ma'at are welcome here.
As this site grows, we hope that the elders and devotees of all the various forms of Kemetic religion currently being practiced in Egypt and around the world will come together here to share their love of the deities with each other, and magnify Their presence in the world.